Billions of Fishflies Swarm the Midwest, Show up on Weather Maps
While people in the Midwest and Canada know to expect a swarm of fishflies every summer, this year's hatch is so massive it's showing up on weather radar maps.
Last week, the Cleveland office of the National Weather Service tweeted a video of a weather radar map showing a huge gray cloud blanketing Ohio and reaching into Michigan and Canada. The cloud wasn't any sort of weather pattern—it was a swarm of billions of fishflies.
Looks like another one of those nights…#mayflies #OHwx pic.twitter.com/bKtnaUexPg

— NWS Cleveland (@NWSCLE) July 2, 2019
Though it is believed the swarm pictured is from western Lake Erie, other bodies of water in the area have also contributed to the massive number of insects.
Luckily, the flies are not dangerous, just a nuisance.
"Every year they're here and then they're gone. One thing: they don't bite and they don't mess with my garden," Rick Southerland, a resident of St. Clair Shores, Michigan, told WWJ.
It's fishfly season. This is what we deal with for a month each year. I use my umbrella as a shield. #nature #bugs pic.twitter.com/T8cNUoKOJo

— Tiffany Stark 🇨🇦 (@tiffstark13) July 10, 2019
But the fishflies are definitely a nuisance. The mayor of Lakeshore, Ontario, has warned residents about disconnecting street lights. Similar to moths and other insects, fishflies are drawn to light.
"I'm not sure of the number of lights we've had to re-connect, but we've had instances where we fix a light only to have to go back the next day and reconnect it again," Mayor Tom Bain told the Windsor Star.
Still, disconnecting the lights is dangerous: Not only do the lights provide much needed visibility for pedestrians and drivers, there is an electrocution risk in disconnecting them.
"That's a lot of power in those lights," Bain said.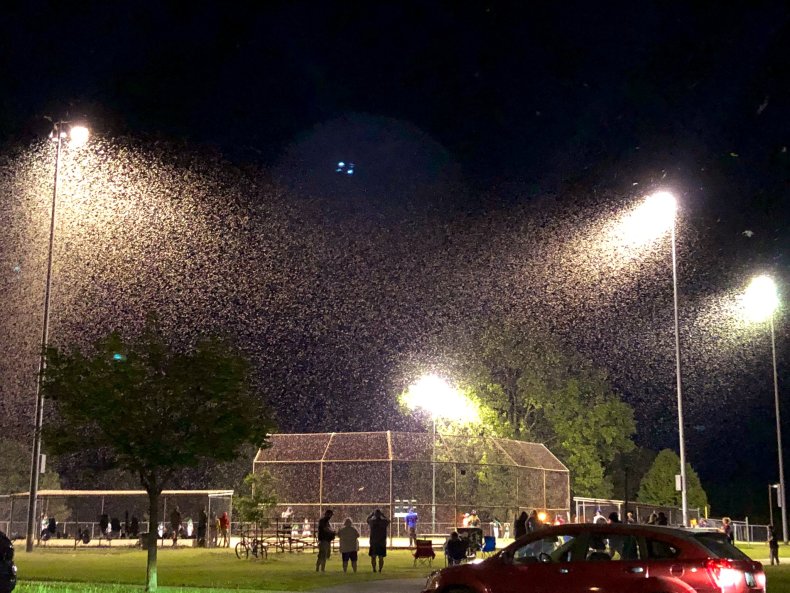 On Monday night, there were so many fishflies in Windsor, Ontario, that a Little League baseball game had to be canceled.
Players in the Forest Glade Baseball league were so swarmed that outfielders couldn't see. When the umpire finally called the game for safety reasons, he was covered by nearly 100 fishflies.
Even though it wasn't safe, the kids still wanted to play.
"Kids have fun dodging, swatting the fishflies away. But it's not usually too bad," Chris Apthorp, vice president of the Forest Glade Baseball League told the CBC.
Fishflies, also known as mayflies, spend the bulk of their lives underwater. But when they reach their adult form, they swim to the surface to look for a mate. Adult fishflies have one of the shortest lifespans of any animal—some species live for one day, others for only for 30 minutes.
There is some good news from this virtual plague: The fact that there are so many fishflies indicates that the lakes and rivers juvenile flies call their home are much cleaner than they have been in the past.
Fishfly season is expected to last until mid-July.