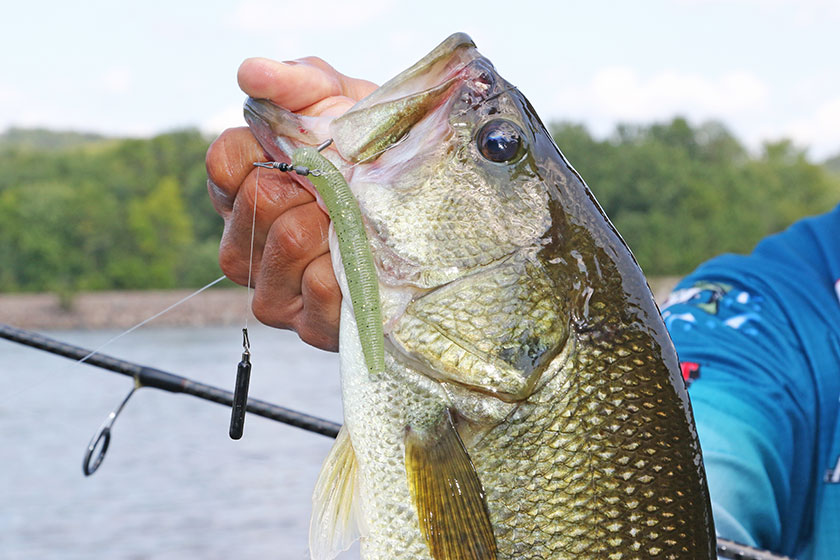 September 23, 2021
By David A. Brown
Maybe it's a goby lake, maybe they're eating crawfish, or they could simply be pinned to the bottom during a cold front or due to heavy fishing pressure. Sometimes, you've just got to keep it in the basement.
Contrasting scenarios of suspended fish of those relating to elevated cover like grass mats, dock floats or the upper reaches of a laydown tree; bottom-oriented bass require you to take the game to their doorstep.
Jigs, including shaky heads may be the first thought, but sometimes, a lateral to partly lateral look will temp them. Whether this presentation resembles a bottom-hugging baitfish or some other vulnerable prey matters less than the fact that slurping up easy pickings is a common bass-feeding tactic.
Serve It Up
In shallower spots, dead sticking a wacky rigged worm (hooked placed in the bait's center) and giving it just an occasional shiver often entices hungry fish that just want an easy meal. If you're fishing deeper water, waiting for an unweighted wacky rig to hit bottom can become unbearably tedious; and if there's much current or wind, your bait may drift off-target.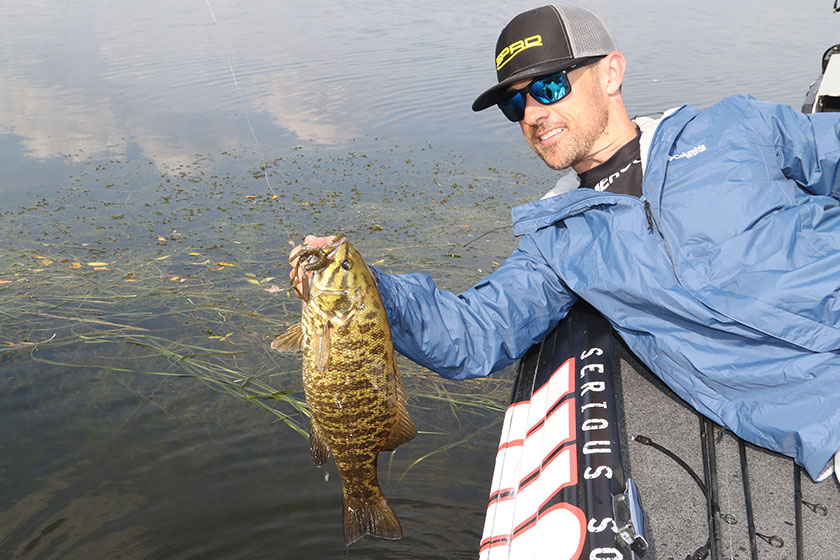 Adding a nail weight (neko rigging) fixes this dilemma by taking what remains a roughly center-hook worm and giving it an express pass to your target. On the bottom, the weighted end hits first, but if you use a dense worm like the original Yamamoto Senko, the bait will settle with a partly lateral-to-diagonal type posture that still fits the bill.
Short-Leader Dropshot: Japanese pro Shin Fukae often needs a Ned rig look with weedless defenses. He accomplishes this with a 3-inch Yamamoto Fat Senko and a 2- to 3-inch dropshot leader. Fukae uses the Gamakatsu G-Finesse Swivel Shot, comprising a free-rotating worm hook mounted on a wire between a line tie swivel and a leader clip. This simplifies rigging, but the short leader principle remains with a traditional dropshot arrangement, (Palomar knot with the tag end back through the hook eye.)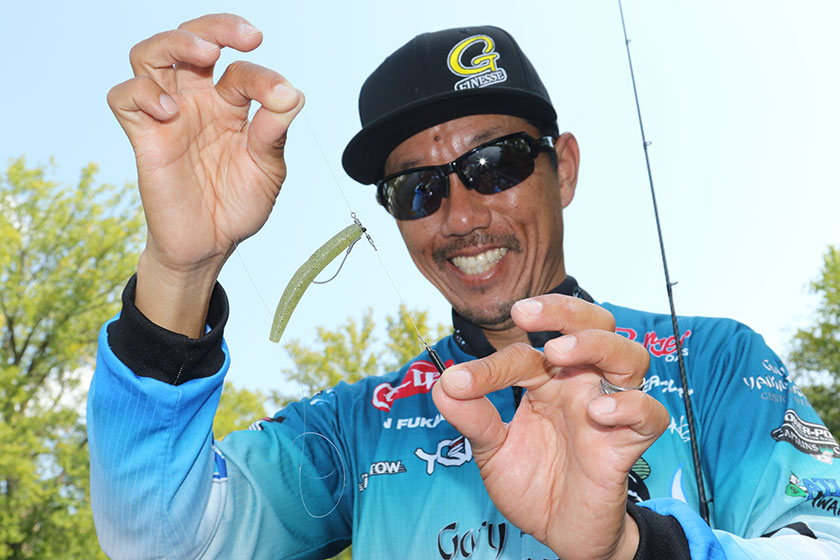 Favoring the latter, Bassmaster Opens pro Matt Pangrac explains his short-leader dropshot strategy: "A fish sees all these baits that go to the bottom, they follow them down and they lose interest; but you pitch that dropshot to them, it hits bottom and then that bait's right there in their face, it makes them react.
"If a dock has been pitched 20 times and everything goes down to the bottom and they have to dig it out of the bottom (they may pass it up). But when that bait's right there in their strike zone and they haven't seen it before because not a lot of people are pitching dropshots, I think that makes them eat it."
Depending on where you're fishing, short-leader dropshot can be rigged presented with the traditional nose hooking for uncluttered bottom, wacky style for more action or Texas-rigged if snags threaten, or if fish are short striking and you need to move the business end closer to the fish's mouth.
Flick Shake: Also known as a wacky jighead presentation, this one replaces the standard short shank wacky hook with one sporting a lead or tungsten head. On the drop, that weighted head sinks to the bottom and the more buoyant worm rotates upward. This allows you to bump that rig along the bottom at a crawling pace to simulate ambling prey.
Jika Rig: Kind of a dropshot/Texas-rig hybrid, this one mounts a hook and a cylinder style dropshot weight on a split ring. When deployed, the weight stands vertically and the hook with its bait hangs horizontally. On the cast, the weight leads the bait independently—as opposed to the connected Texas rig—for greater distance.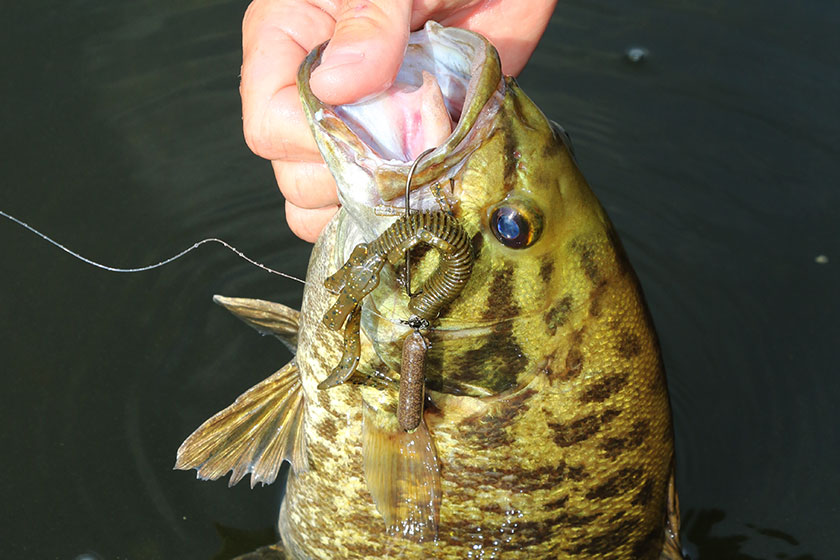 Leadered Punch Shot Rig: VMC markets its Tokyo Rig version, but the generic setup comprises a welded ring that links a rolling swivel line tie, a technique-specific hook (wide gap, flipping or worm) and a wire leader dangling below from another rolling swivel. Adding a weight onto the leader, turning the tip 90 degrees to prevent slippage creates a lateral presentation that stands a little higher off the bottom than the Jika rig.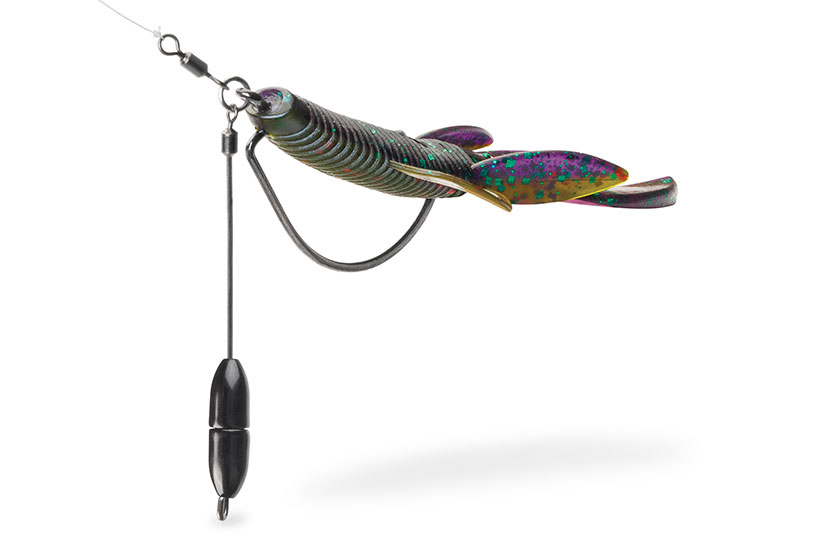 The Tokyo Rig
While it was originally conceived for the namesake technique, the punch-shot rig gives you another option for that bottom-oriented presentation. (Rigging option: Position two bullet weights with wide ends facing and glass bead between them. As the bait hops across the bottom, the clicking sound increases appeal.
Free Rig: During a recent Bassmaster Open on the St. Lawrence River, Sakae Ushio described using this setup to target smallmouth feeding on gobies. Essentially, he slipped his leader through the eye of a dropshot weight before tying on his hook. Ushio said the bait's freedom of movement creates a more subtle presentation, while maintaining the same bottom contact/horizontal look of a Jika or Tokyo rig.
Pangrac offers this tip: If the fish are biting a bottom-oriented rig on the fall, he'll go to a high-vis main line because it acts like a bobber. Soon as he sees that line jump, he raises the rod tip and reels into his next catch.