We earn a commission for products purchased through some links in this article.
Whole roasted sea bass – How to make oven baked whole fish
This delicate white fish needs very little by the way of cooking technique – here's how to roast it whole with lemon and thyme.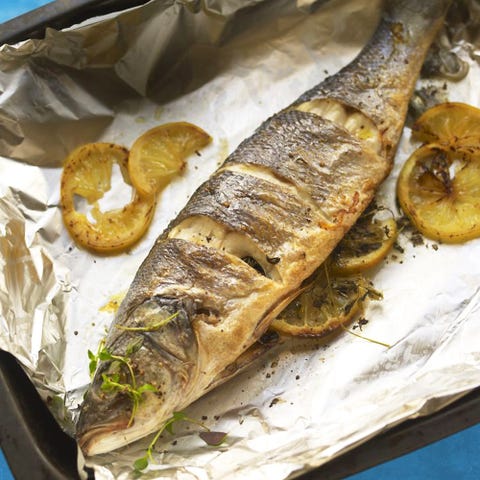 Sea bass is a delicate white fish that needs very little in the way of cooking technique, with a simple yet delicious approach being to roast it with lemon and herbs.
Other whole round fish that can be cooked like this are sea bream, grey mullet, red mullet and oily fish, such as mackerel. Buying and cooking a wholefish like this can work out cheaper, as you get more for your money and the taste is superior, as the flesh remains really tender and moist. It isn't at all scary to cook as the fishmonger will do all the hard work for you and you just put it in the oven.
If you prefer to buy bass as fillets, you can pan-fry these, skin-side down in hot oil for about 2 mins each side. Serve with a wedge of lemon. They can also be poached or steamed.
whole sea bass (about 1.3-1.8kg), ready prepared (gutted and scaled)
olive oil
lemons (juice of 1 and 1 sliced)
handful thyme, roughly chopped
Preheat oven to gas mark 5/190°C (170°C in a fan oven). Wash sea bass inside and out and pat dry with kitchen paper. Make about 3-4 slashes across the flesh of the fish, line a roasting tin with foil and sit fish on it.
Mix together the olive oil, lemon juice and thyme and season the sea bass with sea salt and freshly ground black pepper. Drizzle all over the fish, tucking into the slashes.
Put into oven and roast uncovered for about 20-30 mins – the flesh should feel firm to the touch and should be flaky and white. Remove from the oven and leave to rest for 5 mins before serving. To serve, flake the sea bass with a fork and serve with fresh lemon slices and a crisp green salad.
Like simply cooked fish? Try baked lemon sole
Like this article? Sign up to our newsletter to get more articles like this delivered straight to your inbox.
Love what you're reading? Enjoy Prima magazine delivered straight to your door every month with Free UK delivery. Subscribe now to save on the shop price + get instant digital access to the latest issue!