Today's review is for the Flopping Fish Cat Toy. Another product review for Tammy, who's 1st birthday is today. This cat toy is rechargeable and very realistic looking.
The movement only occurs when your cat touches the fish, so you can leave it on, and the battery will last longer.
Made from Cotton which has been designed to be not only soft but also durable.
The movement of the fish will astound you, watch as it flips, shakes, and flops about on your floor.
So, is this cat toy any good? Will Tammy like it? Time to test it out!
Packaging and Contents.
The Flopping Fish Cat Toy comes in a zip plastic bag. Inside the bag you'll find 1x Plush Toy, 1x Fish Motor (inside the plush toy), 1x USB Cable, 2x Cat Nip Sachets.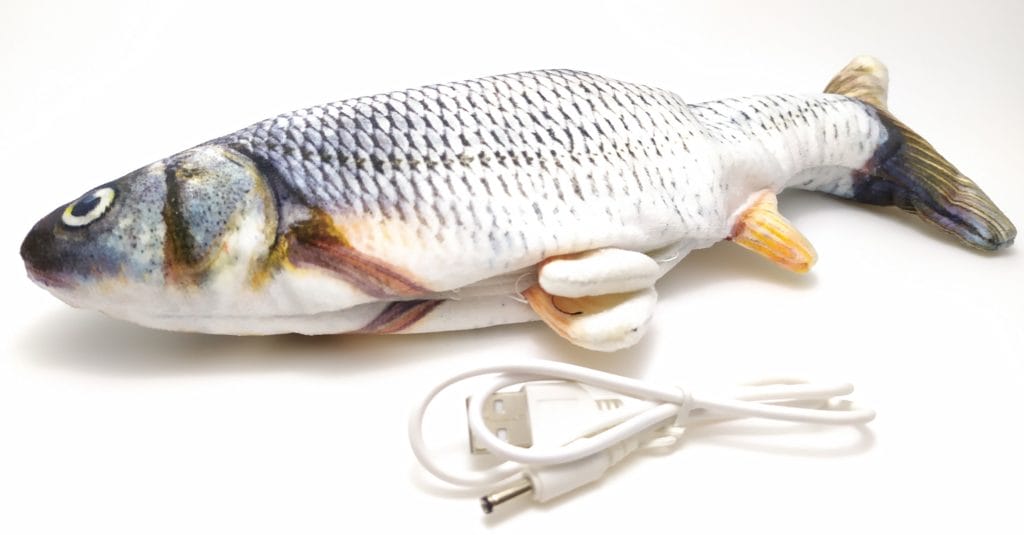 Flopping Fish Cat Toy.
The fish measures 29.0cm x 14.5cm x 6.0cm. I was incredibly surprised just how realistic this toy looks; I was taken aback at first as I genuinely thought it was a real fish through the packaging.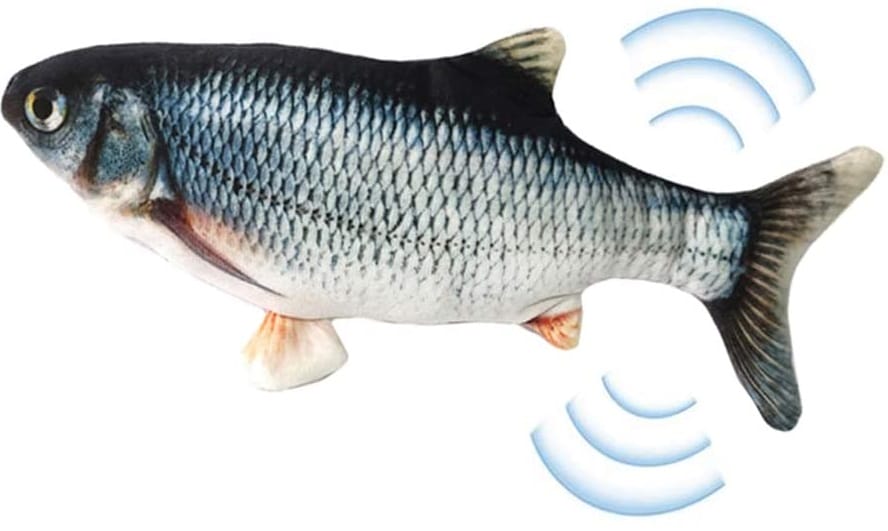 The internal motor is removable and is rechargeable via the USB charging cable (which measures 60.0cm) and will require a 5V DC power source. I'm currently charging this motor using a power bank. A Red LED light displays when you're charging the motor, this light will go out when charged, which takes around 2 hours to fully charge the in-built 320mAh battery. The battery has a long-life span on a single charge and will operate for 24 hours before requiring a recharge.

The motor features an on/off switch and an in-built sensor that activates the movement when your cat interacts with the fish.
Using the Flopping Fish Cat Toy.
To use you need to power it on via the power switch and close the fish using the Velcro flaps. Immediately Tammy was interested and went to investigate. She started to lick the lick and then proceeded to kick it around and started to roll about whilst grabbing hold of the fish. It was an instant hit.
The below video from YouTube shows how the fish moves about. Video courtesy of Kittisaurus.
One thing to note is the motor noise, it's quite loud and sounds very robotic. Also, the flopping tail movement makes quite the bang on your floor. If you were to use the toy at night you could end up getting a knock on the door from the neighbours. Imagine trying to explain these robotic, banging noises to your neighbour!
Aside from the motor noises Tammy really like her fish toy, she also likes it as a plush toy with the motor removed too.
Technical Specifications.
Brand: Unbranded
Model: Flopping Fish Cat Toy
Manufacturer Code: N/A
Manufacturer Reference: N/A
EAN: N/A
ASIN: B0836X98R9
Compliance: N/A
Conclusion.
Tammy likes her Flopping Fish Cat Toy. She kicks it about, licks it and rolls about with her fishy friend. I was overly impressed with the realistic look and movements too. But, it's quite loud and will certainly annoy you after a little while. It's still an absolute bargain though for an interactive toy. I like that it's rechargeable and feels well made too.
If you want the Flopping Fish Cat Toy for yourself, it's available for purchase only on Amazon. The RRP for this product is £12.99.
Product sample provided by USPANIU in exchange for a detailed, unbiased review.
Thank you for taking the time to read my post. If you'd like to add a comment or thought on this post, please use the section below. I can also be contacted via the online contact form. Please subscribe for the latest reviews, news, and discounts. Please follow My Helpful Hints on Twitter, Instagram & Facebook too!