How long to bake mahi mahi in oven at 375 so it is fork tender and flaky is here. Baked white fish is a healthy low carb meal we all love. If you loved our air fryer mahi mahi recipe, this is a delicious choice too.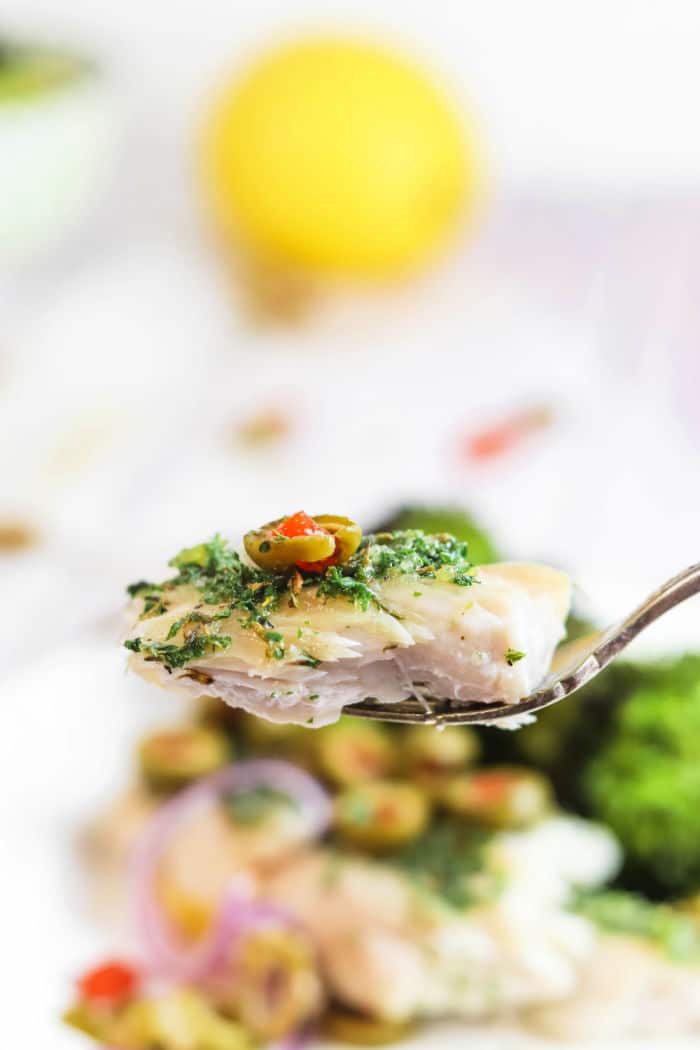 Let's talk about how long to bake mahi mahi in the oven. We have cooked it in a pressure cooker and air fried but on a baking sheet is great as well. Just one easy fish recipe we have shared on our blog lately. (affiliate links present)
Oven Baked Mahi Mahi
I was born in Hawaii so needless to say I love all things from the sea. White fish great and if I'm going to choose my favorite amongst them all I'd choose this one. Yes I buy and make oven fried fish fairly often too but when I just want it light with no breading this is the way to go.
If you have been following my blog for any length of time you know I use my small kitchen appliances often. I realize that not everyone is like me, but you likely have an oven at home so I wanted to share the best way to bake mahi mahi in the oven too. Yes, cooking frozen meat to tender is so possible.
How Long to Bake Mahi Mahi in the Oven
You can actually. We share how to grill frozen fish in this post too. If you want to bake frozen fish in the oven you can at 400 degrees F for under 15 minutes or until the internal temperature is 158 degrees. Top with butter and seasonings to keep it tender, moist, and flaky.
Best timing is between 10 and 12 minutes total. Of course there will be variations depending on how thick your fillet(s) are but generally this is just about right. Same goes for our air fryer frozen fish recipe of course. Biggest difference with that method is the outside will get a bit of a crisp to it.
The most important thing when cooking fish is to NOT overcook it. It dries out quickly and can get gray fast so keep an eye on it so it gets just to fork tender.
As far as ingredients that will keep the top nice and moist there are several possibilities. Fresh lemon slices work well, pats of cool lemon butter, lemon juice or a slather of pesto is fabulous as well.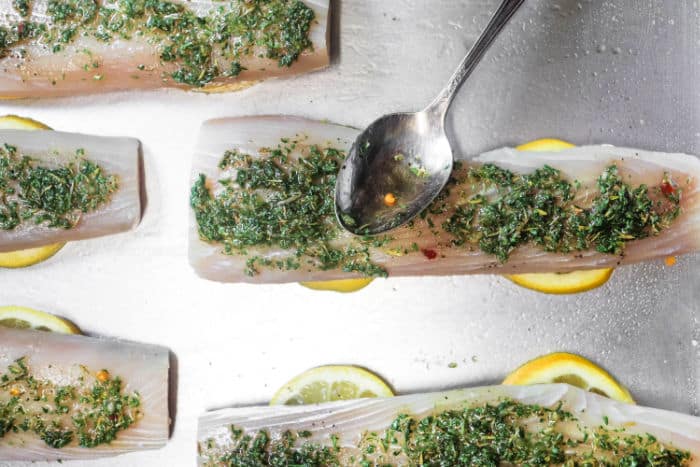 How Long to Bake Mahi Mahi at 375
When you cook mahi mahi that is defrosted the cook time varies from 15-20 minutes. A lower temp works better for a slightly longer time is suggested vs. than if they were straight out of the freezer. I will say that fresh is always best. I mean we don't all live on the coast and next to a fishing boat but you know what I mean.
Beyond something on top to keep it moist you can add what you like beyond that. Minced garlic is great, slices of green olives, red onions sliced, pesto with pine nuts and/or a bit of citrus is nice to break thru all the flavors.
5-6 fillets mahi mahi
2 lemons
Red onion sliced
Parsley
Olive oil
Roasted garlic
Thyme
Cold sliced butter
A baking sheet or baking dish and a piece of parchment paper works best so nothing sticks.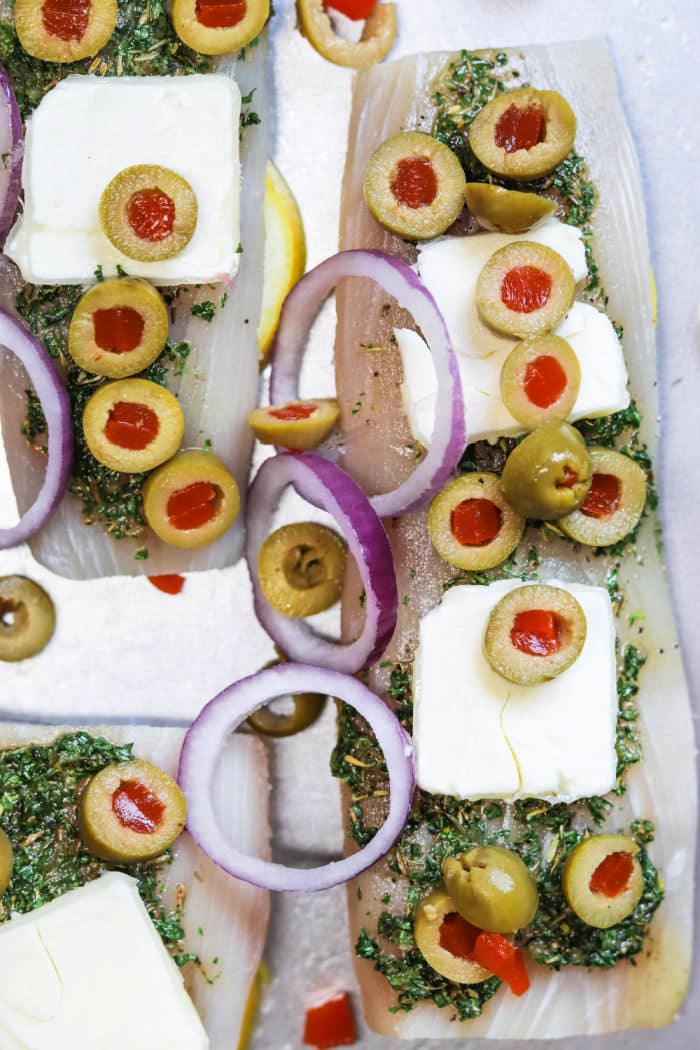 Sheet Pan Mahi Mahi
Of course you can add as many pieces as you want. I suggest that you only cook the number you will eat then and there, it's always best freshly cooked. If it's close to the expiration date then freeze the rest and throw one in your air fryer another day or this is how to grill frozen fish to tender.
Baked Mahi Mahi with Vegetables
If you did want to add veggies on the same pan you could. You would just need to choose those that had the same quick bake time so everything would be done at the same time. Our oven roasted sweet potato cubes would work well. Something like our pesto potato medley needs longer so it would need to be on another rack.
Baked Mahi Mahi No Breading
Lightly oil your pan or set in a piece of parchment. Use paper towel to pat fish dry. In a small bowl, mix together minced garlic, thyme, and parsley. Set aside. (if you wanted it sweet, add 2 tbsp honey too)
Slice lemons and red onions. Lay lemons on baking pan. Place fish on top of lemon slices, with each fish fillet having 2 slices underneath. Top each fillet with a pinch of the salt, pepper, and chili flakes (if desired for heat).
Spread the parsley mixture on top of the fillets. Top each mahi mahi fillet with two thinly sliced pieces of butter. Layer the sliced olives (if you want to add some of those) and sliced onions on the fillets.
Preheat oven and bake at 375°F for about 15-20 minutes or until the center of the fillet is flaky and cooked thoroughly. Insides should be white to be a delicious fish that is flaky and moist.
You can jump to recipe below, get started on our easy baked mahi mahi recipe and let us know what you think!
Want to see a few of my favorite things that I am totally obsessed with?? Take a peek and see how many you might already have…twinsies!
Looking for more easy family recipes and tips? LIKE The Typical Mom Facebook page?
Then sign up for my free newsletter, and follow me on Pinterest! 😉
***** If you LOVED this recipe give it 5 Stars below and let everyone know what you thought about it. 😉
How Long to Bake Mahi Mahi
Equipment
Ingredients
Instructions
Lightly oil pan. Set aside. Use paper towel to pat fish dry. In a small bowl, mix together minced garlic, thyme, and parsley. Set aside. (if you wanted it sweet, add 2 tbsp honey too)
Slice lemons. Thinly slice red onion into rings. Lay lemons on baking pan. Place fish on top of lemon slices, with each fish fillet having 2 slices underneath. Top each fillet with a pinch of the salt, pepper, and chili flakes (if desired for heat).
Spread the parsley mixture on top of the fillets. Top each fillet with two thinly sliced pieces of butter. Layer the sliced olives (if you want to add some of those) and sliced onions on the fillets.
Bake at 375°F for 15-20 minutes or until the center of the fillet is flaky and cooked thoroughly. Insides should be white and not grey (that means you cooked too long if there is grey on any areas)