Hygger [ HG999-14W-US ]
Hygger 24/7 Mode Auto On Off LED Aquarium Light

Unique hybrid lighting blend and 24/7 mode
Premium 5050 RGB LED bulbs
Full-spectrum Flicker-free LED light
Adjustable timer
Extendable brackets
Highly efficient and energy saving
Suitable for plants and freshwater aquariums
Hygger 24/7 Mode Auto On Off LED Aquarium Light
Description
Specification & Package
Instructions
FAQ
24-hour Auto Cycle Mode
In default auto cycle mode, you can use daylight or moonlight option to set your own 24 hours light cycle. Choose auto on/off time, and adjust light color and intensity of the moonlight option. The progressive 24-hour light cycle setting simulates sunrise, midday, sunset, and night in real life.
Gradient Orange light (sunrise) from 6 am to 8 am; Gradient White light from 8 am to 6 pm; Gradient Blue light (moonlight) from 6 pm to 10:50 pm; The 24/7 lighting aquarium lights are off in other time periods.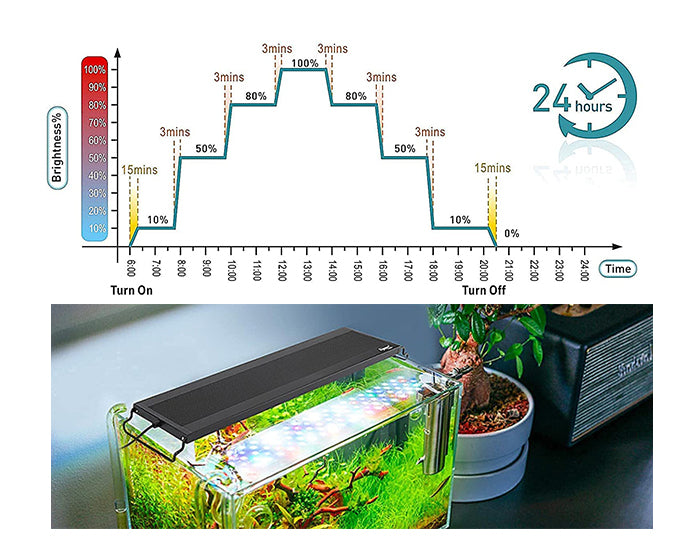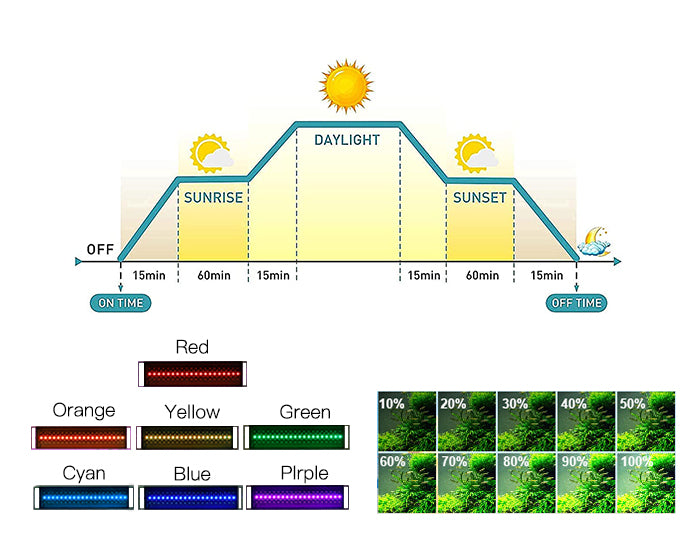 DIY Light Mode
DIY light mode allows you to customize the color, intensity and time period of the light.
You can customize the time period by pressing the TIMER button. Only three time periods are available: 6 hours, 10 hours, and 12 hours.
High-Quality Light
The light is soft, and the rendering index of it is close to natural light, which can protect fish and viewers from the discomfort caused by stroboscopic. Using high-quality 2835 + 5050 model lamp beads, which have a long service life, at least 50,000 hours.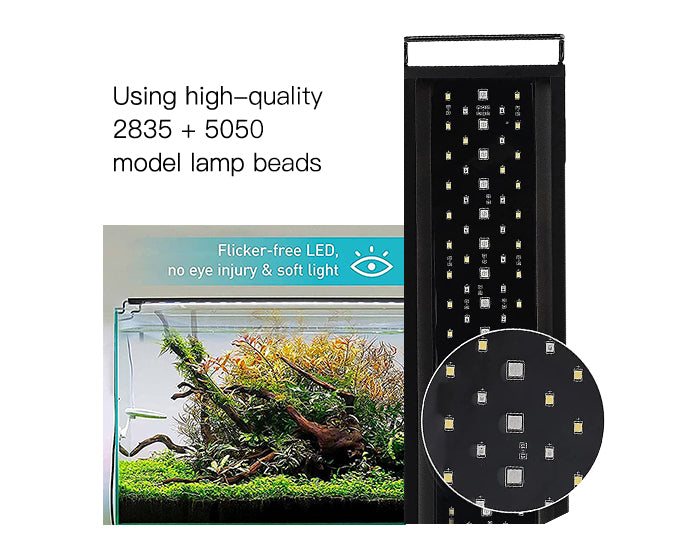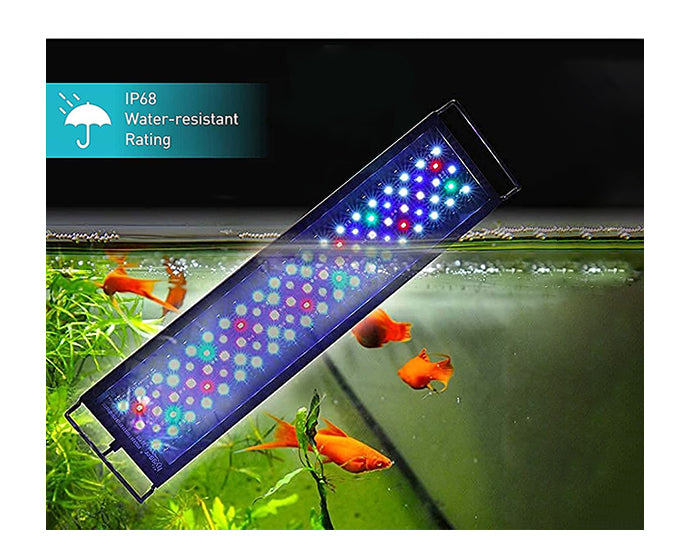 New Update & IP68 Waterproof
Use a professional white background paper to serve as a hidden atmosphere light, put it behind the fish tank. Also can be fixed under the fish tank cover. It can also be put into the water and used as an aquarium submersible light. This adjustable aquarium light can be used for almost all kinds of small fish tanks.
Warnings and Warm Tips
1. Carefully examine the appliance after installation. Do not operate it if it has a damaged cord or plug, it is malfunctioning, or it is dropped or damaged in any manner. The power cord of this appliance cannot be replaced. If the cord is damaged, the appliance should be discarded. Never cut the cord!
2. To avoid the possibility of an electrical hazard, aquariums should be placed to one side of a wall mounted outlet to prevent water from dripping onto the outlet or plug. If the plug or outlet gets wet, do not unplug the cord. Disconnect the fuse or circuit breaker that supplies power to the light. Then, unplug and check if there is any water.
3. Restore factory settings: Long press the down button and the colored button for 8 seconds, then the SOP will appear on the screen, which means the factory settings have been restored. Note: In order to avoid the light from changing too quickly, during the switching process, this product will switch slowly within 3 minutes.
4. Always unplug or disconnect all appliances in the aquarium from power supply before placing hands in water, putting on or taking off parts, and while the equipment is being installed, maintained or handled.
Product Parameters
Model
HG999-14W
HG999-18W
HG999-22W
HG999-26W
HG999-36W
HG999-42W
Power
14W
18W
22W
26W
36W
42W
Light Size
12in
18in
24in
30in
36in
48in
Application
12-18in
18-24in
24-30in
30-36in
36-42in
48-54in
LED Quantity
58PCS
98PCS
113PCS
130PCS
153PCS
215PCS
Color Temperature
6500K
Luminous Flux
820Lumens
1120Lumens
1480Lumens
1720Lumens
1980Lumens
2160Lumens
Input Voltage
AC100-240V
Output Voltage
DC20V/0.6A
DC20V/1.2A
DC20V/1.2A
DC20V/1.2A
DC20V/2A
DC20V/2A
Power Cord
4.9ft+2.3ft
Packing List
LED Light x1
AC-DC Adaptor x1
Metal brackets x2
User Manual x1
Usre Manual
By MEL · February 20, 2022
Yes it does but clock needs to be reset.
Lester F Lucas · May 12, 2022