Parenting & Fishing… How do you make both possible?
Nicol Seesee takes a look at how her fishing has changed since becoming a parent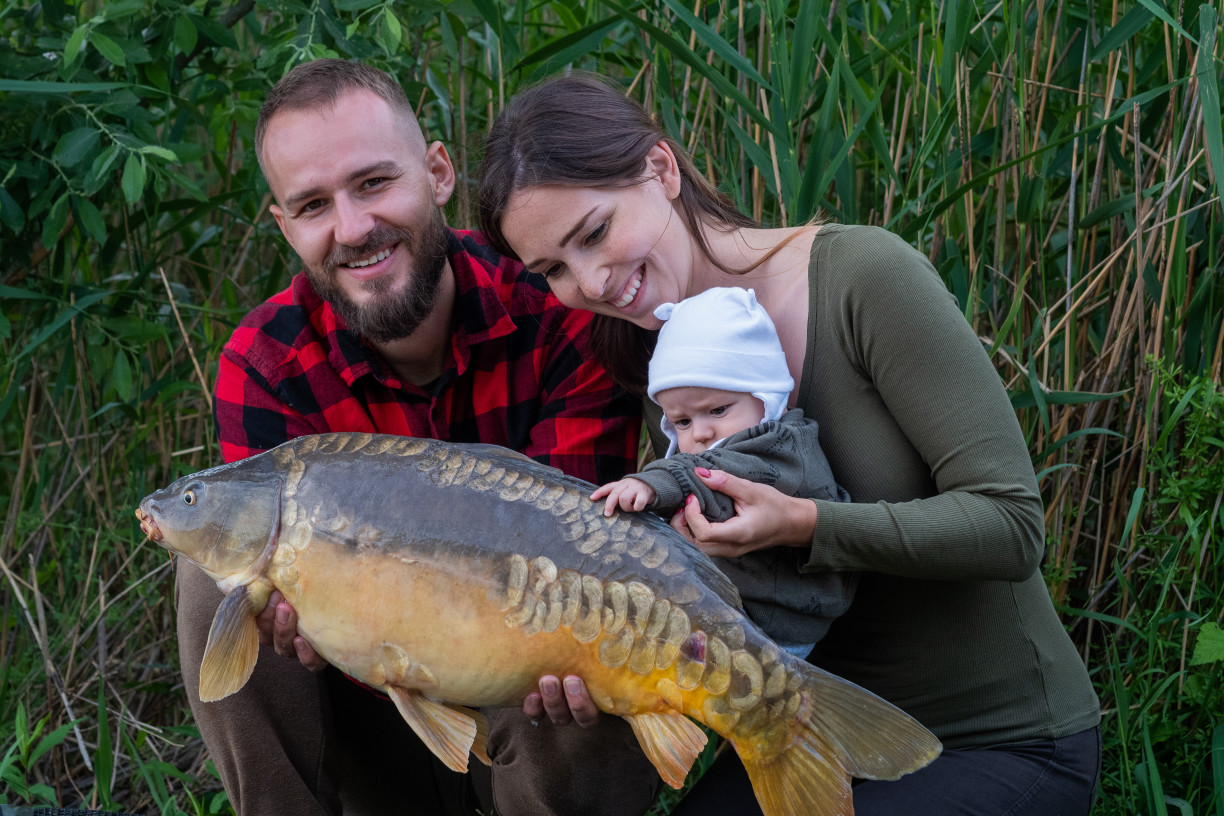 The arrival of spring is a very important moment for the majority of anglers, it's season kindly awaited by all of us. Days are longer and warmer, snow is melting and lakes are finally getting rid of the ice crust. That's a clear signal – fishing season is coming soon. Maybe you recognise this "state of mind" after a long winter – my default browser homepage is YouTube and Google is searching for keywords like "fish", "angling", "carp fishing" and similar. I spend my paycheck before I really get paid and I'm finally getting the joke: "Do you know how a fisher can become a millionaire? He has to start as a billionaire." Yes, this is how spring looks like at my place. I truly am addicted to fishing e-shops and YouTube videos!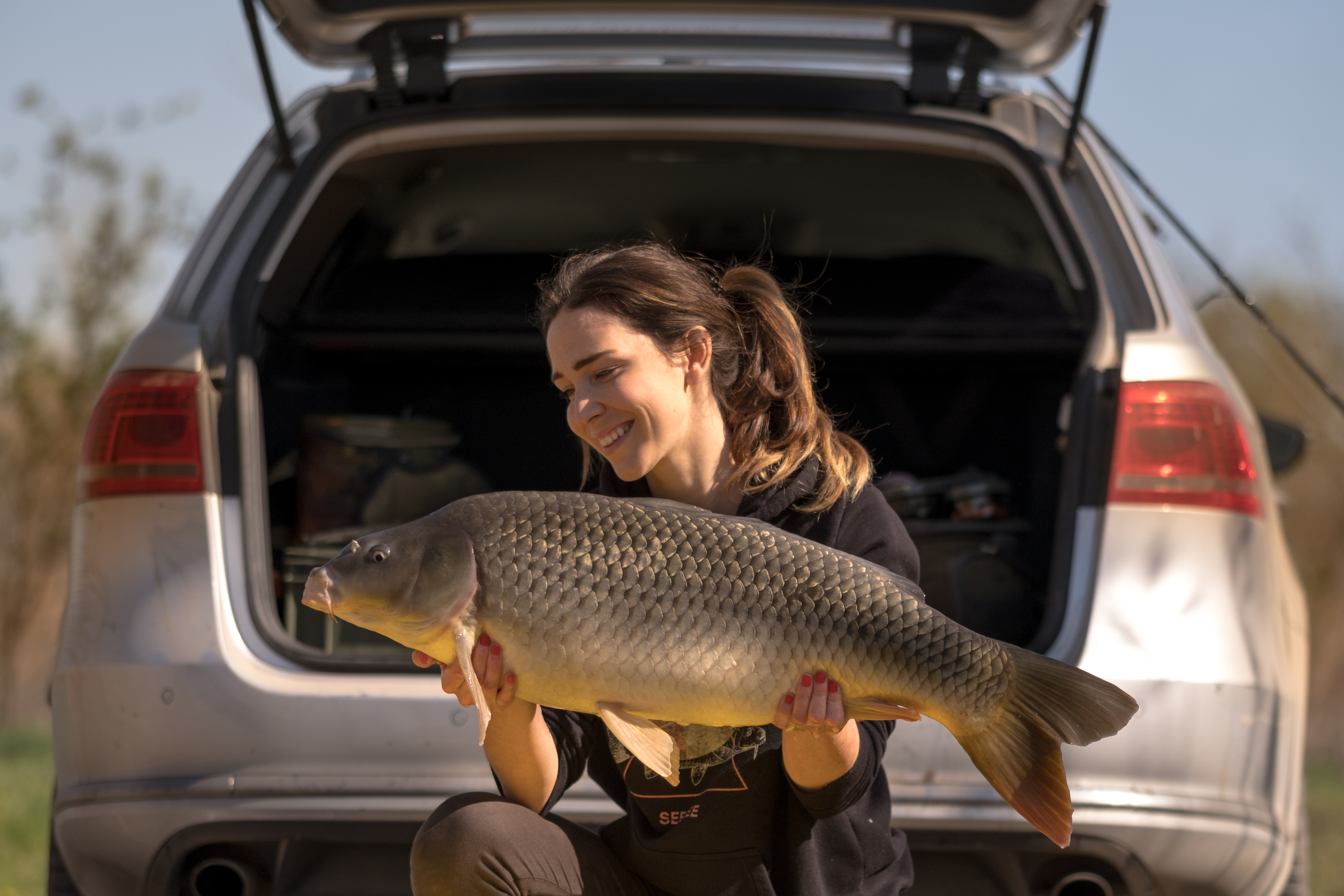 But this spring was somehow different and unique, we became parents! When talking about our future, we always claimed, we will do maximum to help our kids develop a passion for fishing and a strong connection to nature from early childhood. And so we could try it out in reality – we set off to our favourite lake for our first family fishing trip together with our 4-month old Adam Jr.. Before the expedition, I did some research, I asked other fishing families for tips and tricks: what to focus on, what to watch out for, what are their recommendations, etc.. The majority agreed upon two things – get a bivvy that is big, spacious and durable enough and make sure you teach your child swimming – ASAP. Well, there is still some time left for swimming lessons, but we did replace our 2-person bivvy for a spacious Gazebo.
1. What changes when fishing with and without a baby? Get ready for a crowded car, much more stuff and much less space in your bivvy!
I always had the feeling we've got lots of fishing gear and far more "rubbish" we simply had to buy because… well, we never used it (OK, maybe one time, maximally). But it was not until now that I realised how extreme and useless things look like when piled up. Imagine toys, children's sleeping chair, pushchair, clothes (not one piece – numerous sets, in case of an accident) and so on. And I swear we only took things that were really "necessary for life"!
After setting up the bivvy, furnishing it with bedchairs, sleeping bags, an organizer and such, we started to set up the stand and fishing rods. I can tell you, you will never really understand what multitasking means, until you become a parent. OK, you are jabbering, singing, eventually having a partner talk while swaying to sides to calm down the little one (without the little one) – that's nothing special. However, preparing fishing rods to cast, tying rigs, preparing bait and simultaneously changing nappies, reading books, rattling plus smiling all the time, so it all seems like huge fun – that's another level. Nevertheless, we succeeded. We casted our fishing rods successfully and now we just have to wait. Just kidding. Now we just… have to do millions of other things. If you want to manage other things, too, except full-time parenting, there's only one solution – get that child to sleep!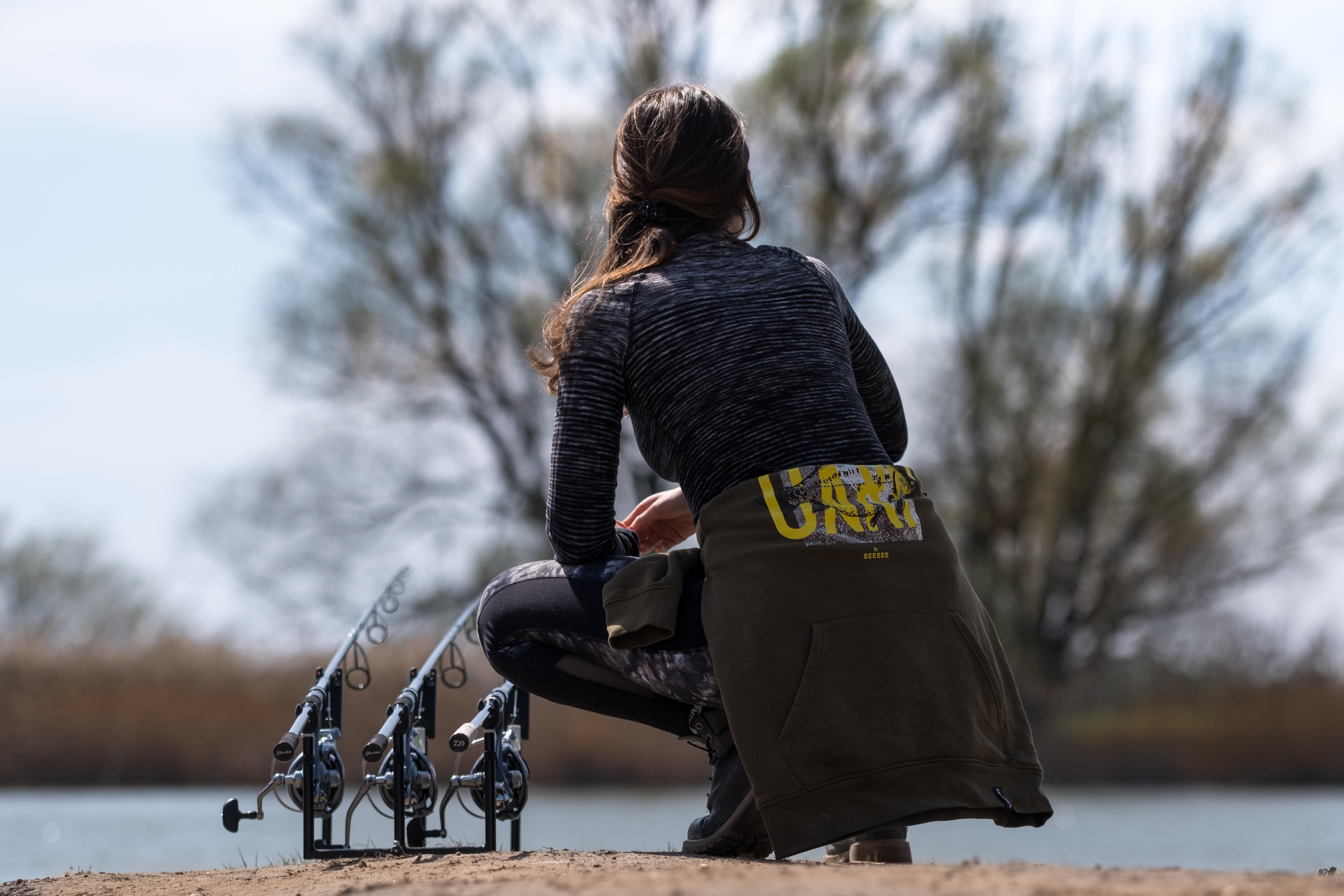 2. A big change to our fishing (and my personal recommendation) – prepare at home all you can!
Honestly, you don't have much time to occupy yourself with rigs and PVAs on the bank. And also, forget about invention, creativity and innovation. These will have to wait for a while. I have no idea what your kids are like, but our son is totally comfortable with hardly one-hour nap. So, as soon as he fell asleep, our marathon started. Tying PVAs, tying rigs, fish feeding and casting… One-hour nap is soon over and there you go. You can enjoy being full-time parent again. And also being angler, entertainer, and cook… simply a multi-purpose person!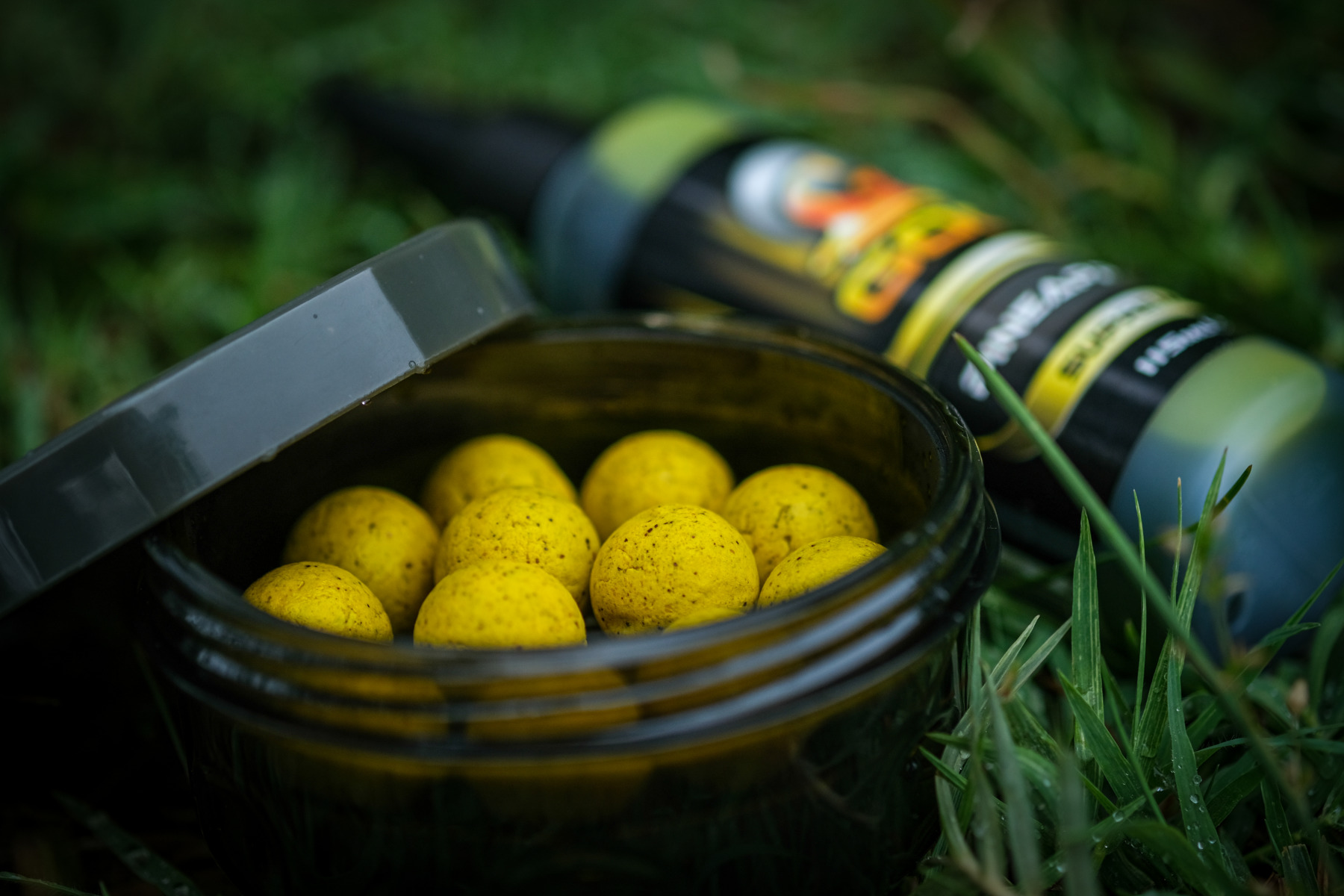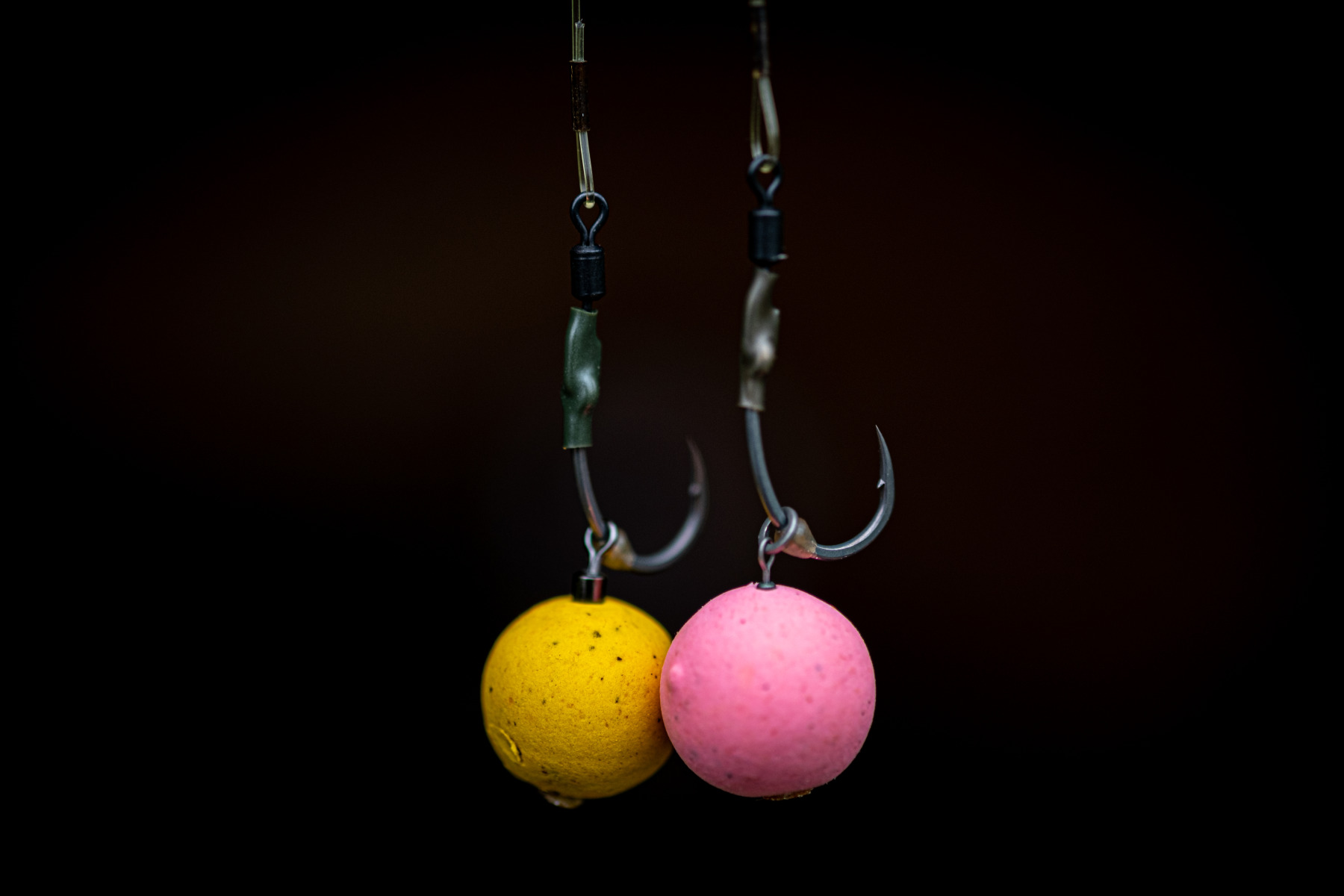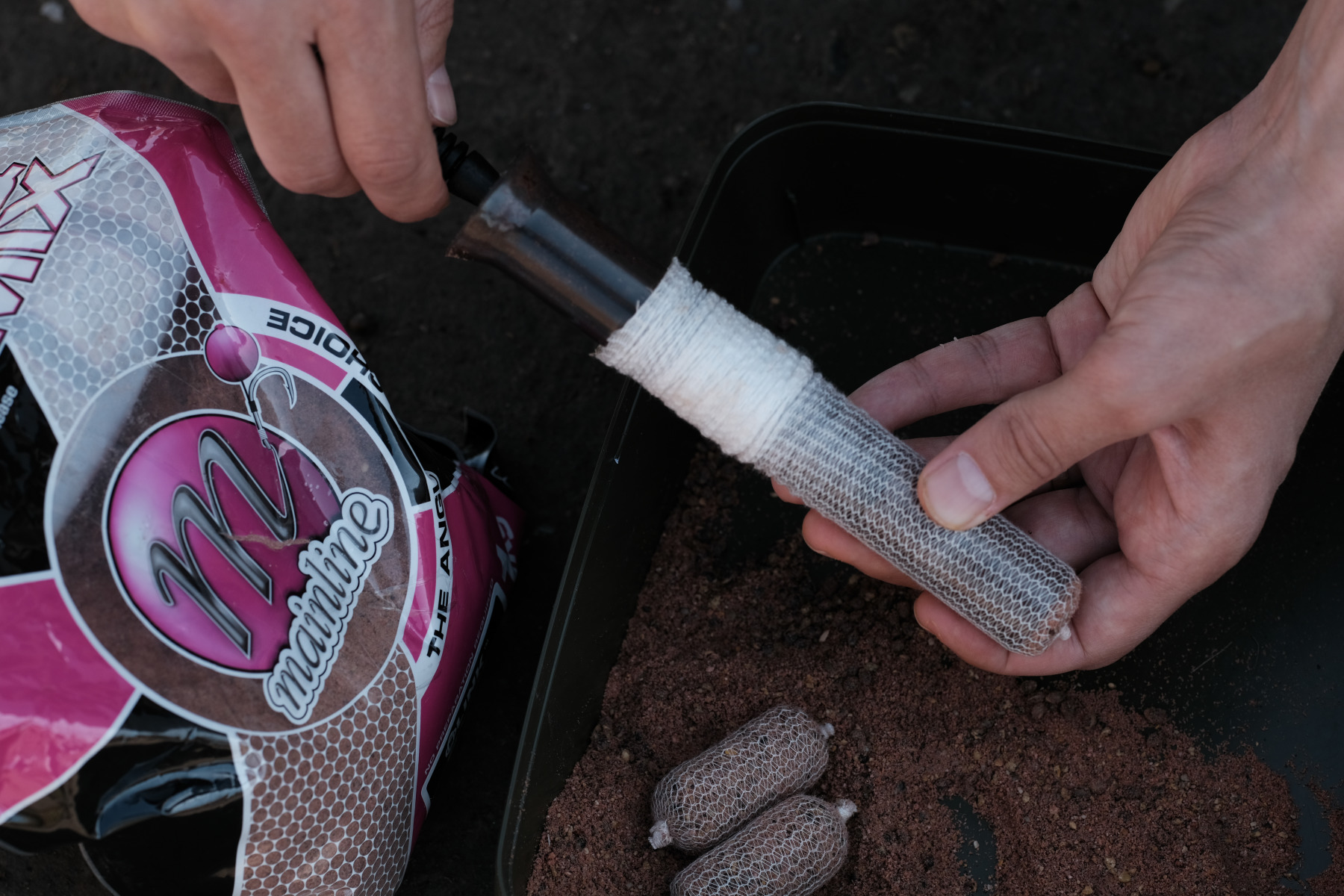 Hey, it's here – the first catch of this expedition! You quickly examine the surroundings where to put your baby (so it's safe) while you'll be pulling the fish out, the pushchair seems to be the quickest choice so you swiftly transfer the baby, "install" a rattle and you're ready to pull the fish out of the water. In situations like these little Adam was always exceptionally calm, I have no idea, why. Maybe he was sensing, what's coming. Or maybe he was curious just like his parents. Therefore, we could totally enjoy (nearly) every catch. The first carp landed safely in the net. Well, it's no extra weight, but I can tell you that after so many months without fishing and after so many difficulties fishing with a kid can bring, you are completely satisfied with any catch. We didn't even manage to cast out the rod and the second strike came. What a nice beginning.
So while Adam Senior is pulling the fish out of the water, I'm trying to explain to Adam Junior, what fishing is about. You think it's too early? Well, the sooner you start the better! We were both watching carefully how daddy is putting a beautiful mirror carp onto the mat. The most favourite occupation of a 4-month old baby is touching everything it can. Why not? The carp belongs now to little Adamko, it is magical to see, how his tiny hand is stroking the big fish. Who knows, what the little head is thinking about this second? It's very probable, that mom and dad enjoy this moment more than he does. I guess it's normal. During those three days we were able to catch a few lovely carps weighting approximately 10 to 18 kg. Although none of it could be described as capital catch, it was quite good for the beginning of the fishing season and we were more than satisfied. We didn't break our personal best, me and Adam, nevertheless Adam Junior reached his first record in his 4 months! That's really something, isn't it? Now we just have to wait until he manages his own fishing rod and pulls out his first real catch!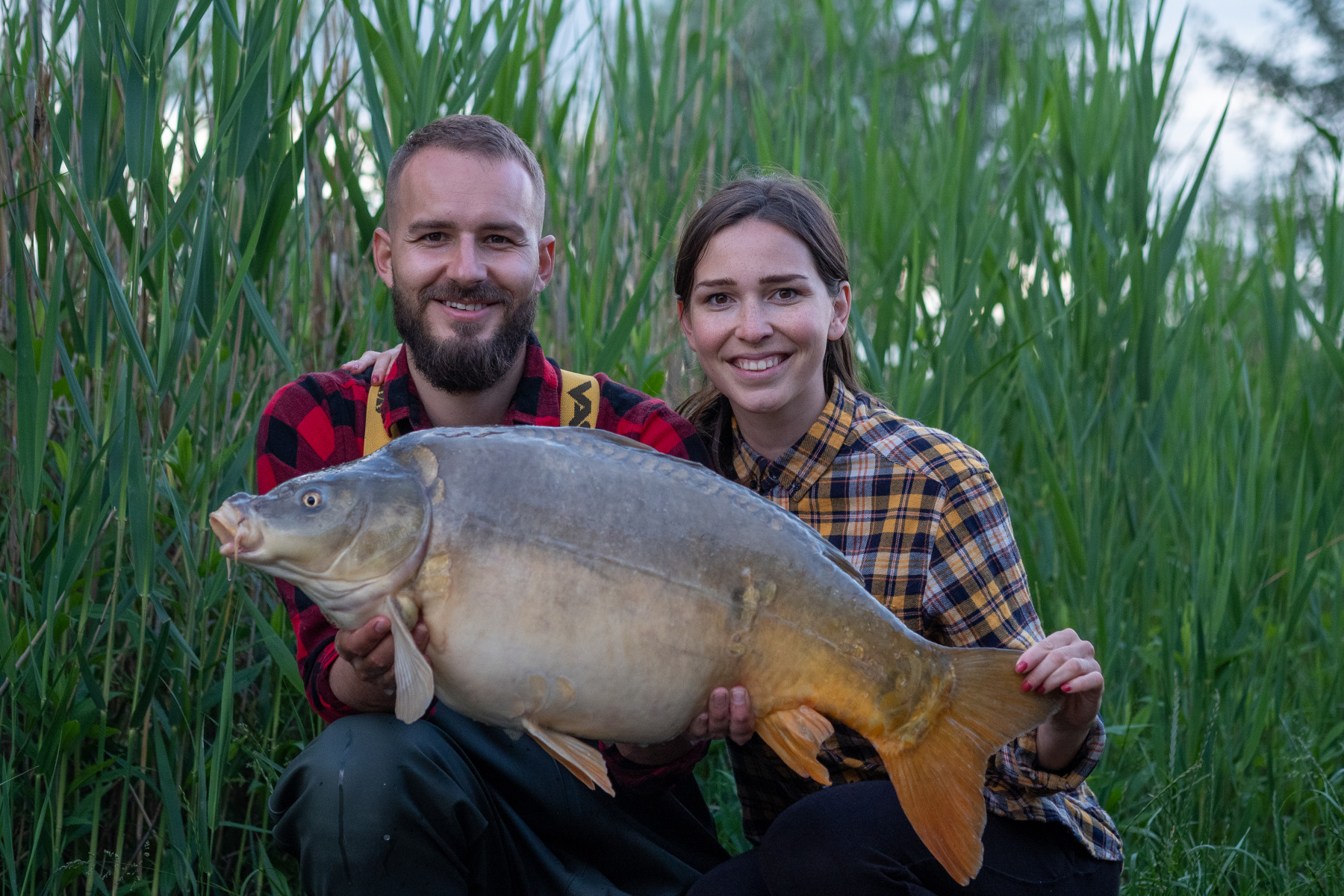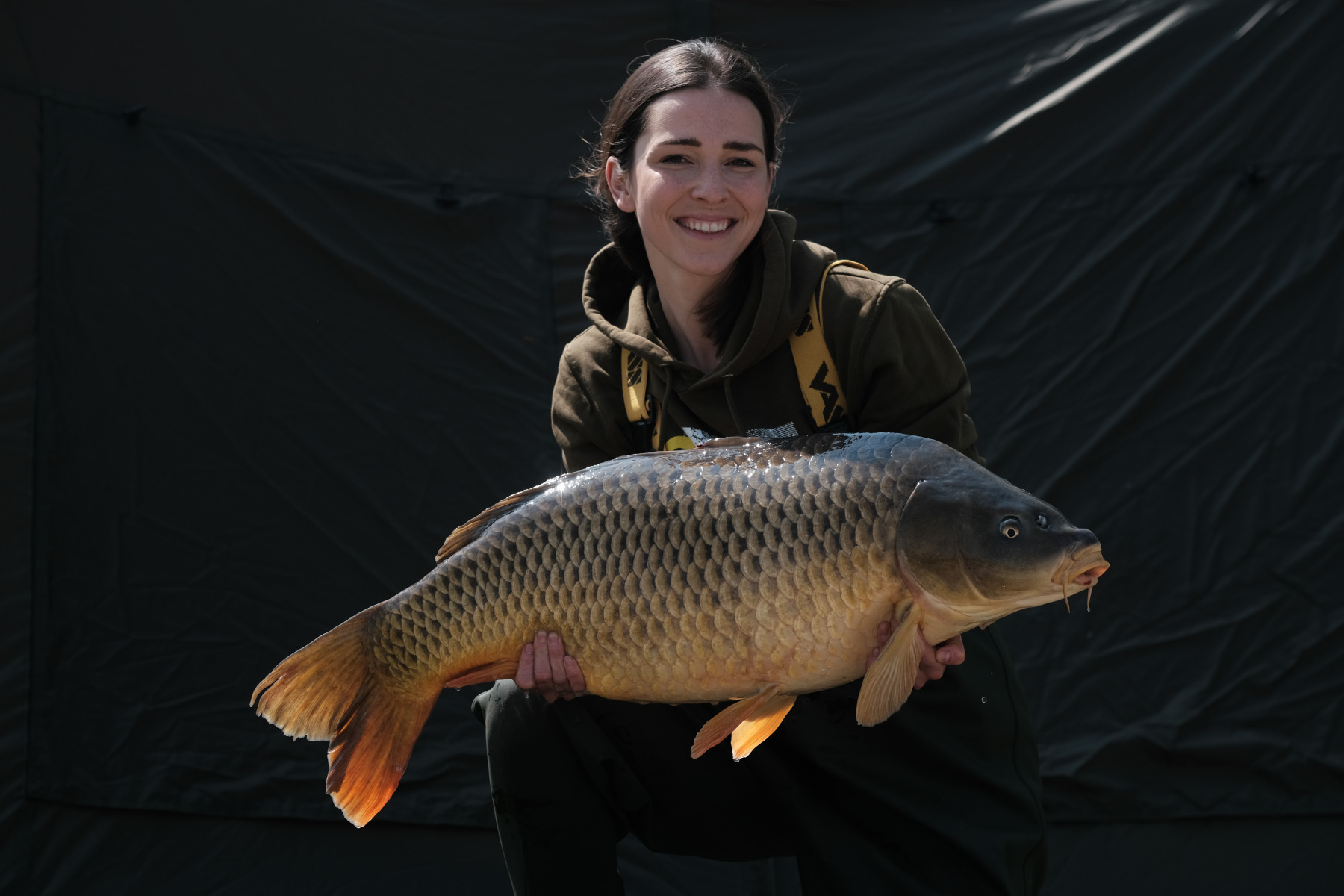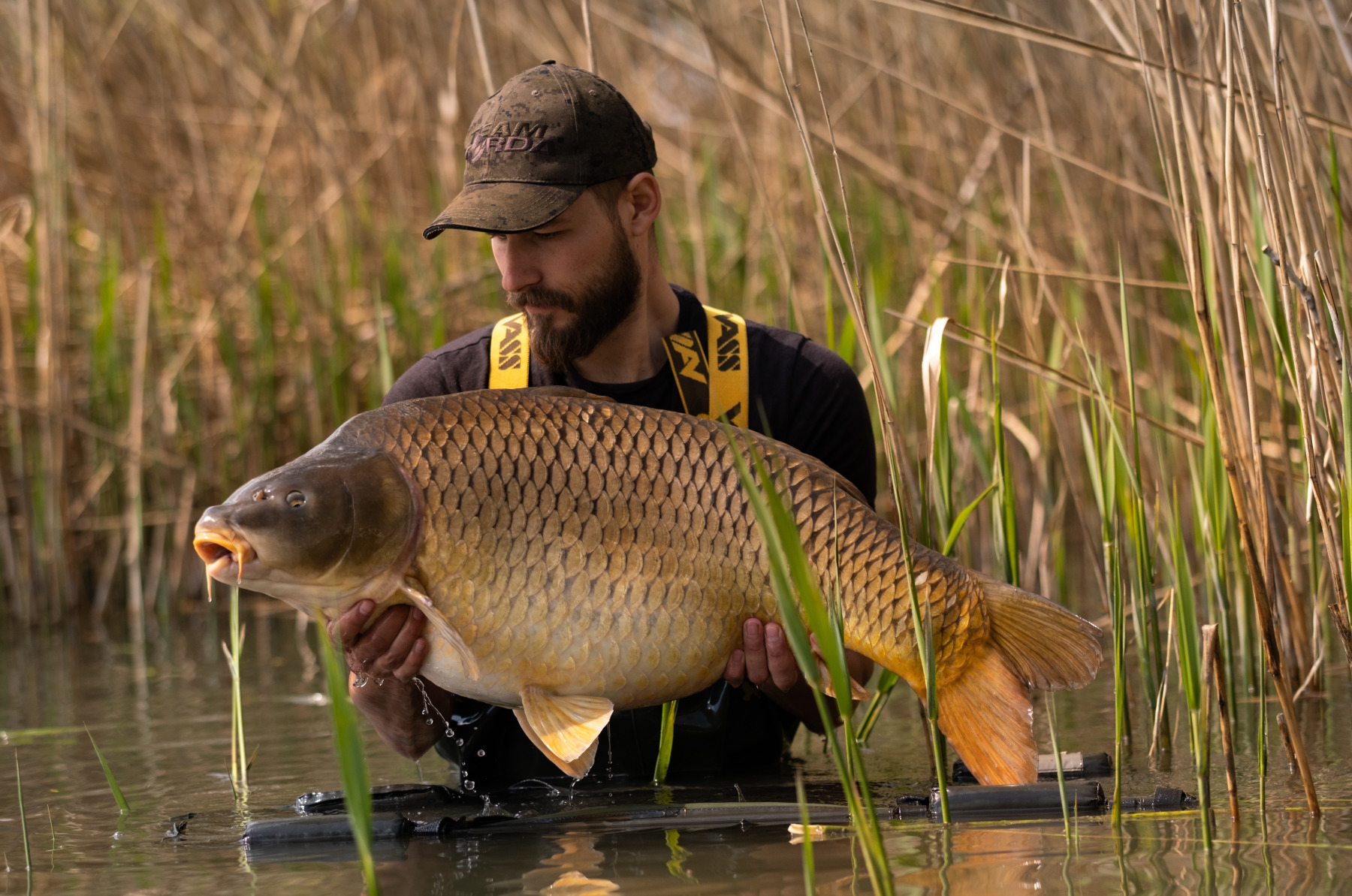 3. If you want your child to have a good sleep, take it fishing!
One of the positives of such a little baby is a fact that it sleeps quite often during the day. Unfortunately, it's mostly just one-hour nap. So you hardly pull yourself together and the little one is awake again. This was the biggest surprise for us, Adamko slept almost of the night, and he fell asleep so sound, we hadn't experienced before. Fresh air? Definitely! There are various travelling cots offered on the internet, but we chose to take our pushchair and use the mosquito net instead. So we successfully managed our first fishing trip in spacious Gazebo. Two bedchairs, one pushchair, night storms and quite a strong wind. When Adamko managed to sleep in such environment, he will probably cope with any nightly issue!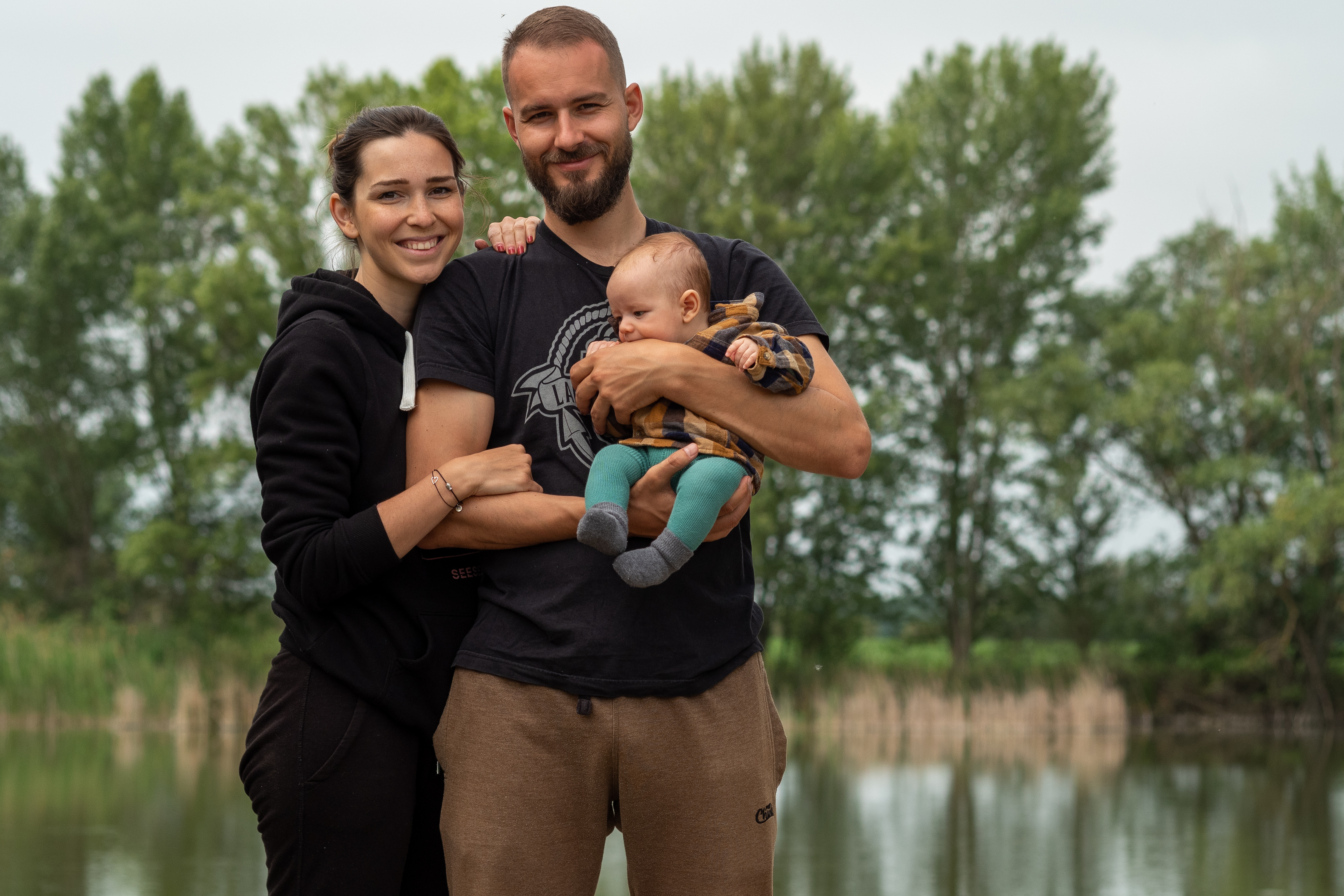 4. An appeal (quite unrealistic) to bivvy and zip producers: Please invent noiseless slide fasteners.
In case you're curious how we solved night fishing so that the receiver won't wake our little boy up… well, this was a dilemma. The monitoring itself was no problem (when you're the type of angler, who is able to wake up to vibrations). The biggest challenge is to undo the zip when you want to get out of the sleeping bag and out of the bivvy. Never in my life have I noticed, how noisy the zip on bivvy really is. So you either let the bivvy open and have it crowded with mosquitos, or you wake the little one up every time you go out of the bivvy. Since this was our first family fishing trip and we wanted Adamko to sleep as well as he could, we decided to resolve the dilemma as follows: no angling during the night. Yes, it's a shame, unfortunately this is one of the difficulties when taking a little baby fishing.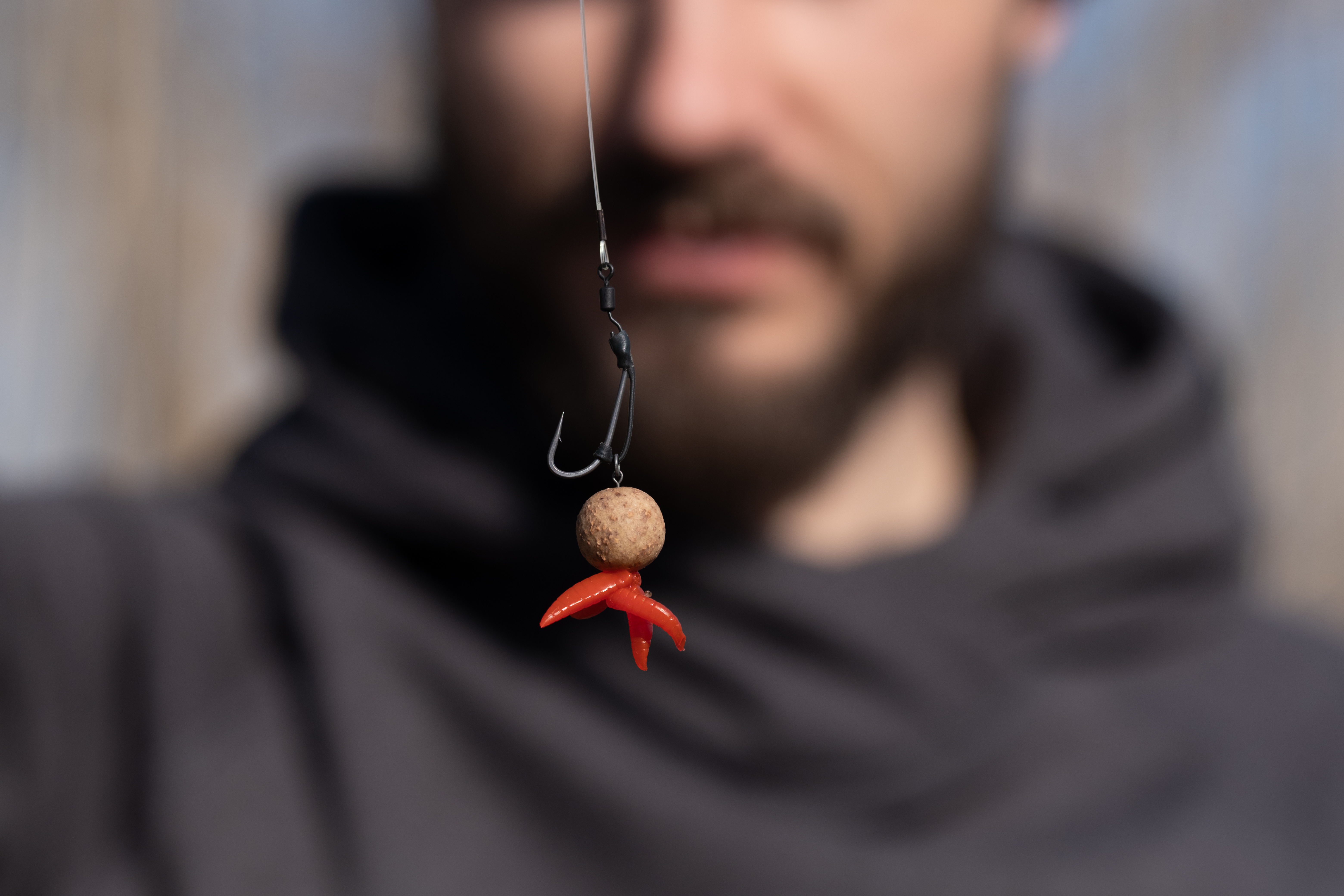 5. Yes, fishing with a child is possible! Believe me, nothing can beat the feeling when you wake up in the morning in the bivvy seeing your husband with you, baby beside you and the sunrise in front of you while enjoying carp jumping out of the water and splashing around.
This fishing trip brought many new findings, taught us to have even bigger patience and I believe also to be better prepared for future family expeditions. It was wonderful to go fishing as a family. Sometimes it was also difficult and tiring. First and foremost, you have to define your priority. What's the most important to you? Lots of parents adjust their lives to their newborns and vice versa, lots of parents adjust their life with a newborn to their previous lives. I think that it's crucial to find a balance and do things as long they're pleasant and gratifying for you. If there's something that makes you fulfilled and happy, I don't think a child should be the reason to stop doing it. Many times it won't be easy at all, and you will have to get out of your comfort zone, but thanks to Rosy retrospection phenomenon you'll forget about it soon. You'll only remember the WE MADE IT feeling – as parents, as fishers, as humans.