Viral Video of Man 'Tickling' Stingray Stirs Controversy Among Animal Lovers
A man's seemingly innocent viral video in which he appears to tickle a stingray has divided viewers on whether or not he committed and act of animal cruelty.
After a TikTok account uploaded a video early this week in which he playfully shows off a small stingray that wound up on his boat amassed millions of views, viewers quickly fell into a debate about the safety of the marine life onboard for an undisclosed amount of time.
The anonymous TikTok user, known only as @mafishingguy on the video-sharing platform, posted his controversial sea life video online on Monday.
In the brief clip, he approaches a stingray laying on its back on a boat, so its underbelly—which resembles a "face" the way its mouth and gills are positioned—is visible to the audience. Wearing a glove on his hand, he proceeds to pet and "tickle" the creature. As the man rubs its stomach, the stingray's mouth opens wide and curls into what resembles a smile. Its body also caves in and curves over the gloved hand, as if responding like a human would to being tickled.
"How do you tickle a fish?" the man filming asks, before repeating the word "tickle" over and over in rapid succession as he touches the stingray's belly.
Nothing to see here….just #tickling a #fish and making him #laugh

♬ original sound – Fishing Guy
Since posting, the video has amassed nearly 47 million views and been liked over 5.6 million times. Many took to the comments to express their joy at the stingray's "face" and how it appeared to smile.
"Look at the smile … so cute," one commented. "Bro it's so cute," another shared.
"Look how happy she is if your day was completely boring just watch this video and the sadness will go away," a fan gushed.
Others took the chance to joke about what the stingray looked like or what it may have been thinking.
"Poor fish looks like he was holding in a fart," one person joked. "Looks so constipated," another wrote.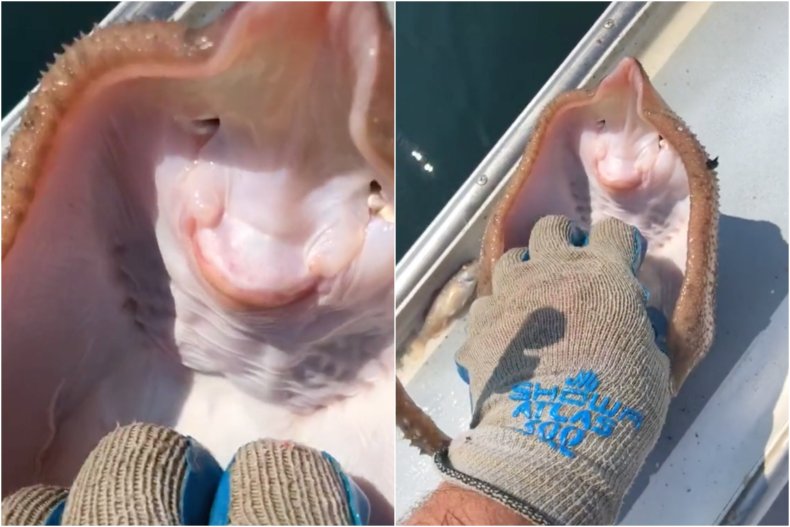 However, thousands took issue that the stingray was out of water and might not have been able to breathe. Self-proclaimed marine experts also claimed that the creature was "scared," not "laughing."
"Do not touch the wildlife … have you ever heard that?" one unamused viewer shared. "Poor thing is suffocating and suffering for your TikTok video. I hope [you] at least put it back in the water at the end," another added.
"Put him back in the water [poor] thing is not laughing probably in agony nothing funny about it," one person proclaimed. "I doubt it's enjoying itself. I guarantee it's scared as hell!"
Some even expressed distaste for the video, not because of the "tickling" but because they had not expected a stingray's underbelly to resemble a face.
"It's cute but I'm a little scared of it," one remarked. "I'm sorry I didn't like that at all," another chimed in.
Newsweek was not immediately able to get in touch with the anonymous TikToker for comment on the viral video.
Another group of stingrays in the care of the Tampa Zoo made headlines in recent weeks, for much more tragic reasons. Twelve stingrays on display in an interactive "touch tank" exhibit were found dead in late May. It was not immediately clear what caused the mass death, as the zoo claimed the animals had "optimal water quality and conditions" in a statement made to Newsweek at the time.