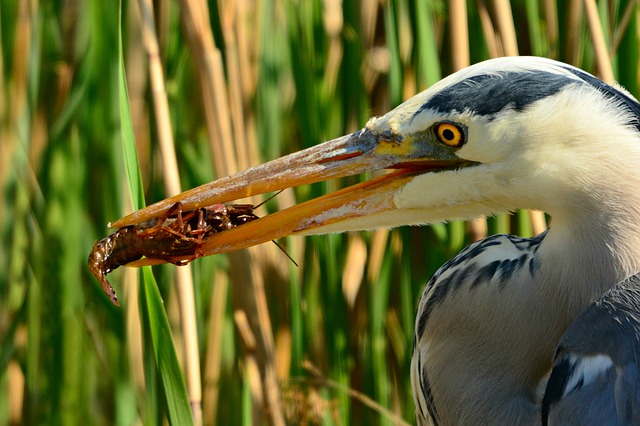 Great blue herons are often seen slowly wading in shallow water hunting for food. You may have even spotted one of these large birds in your own backyard pond. This leaves many people wondering: "What do great blue herons eat?" And here's everything you'll need to know.
A Fishy Diet
The majority of a heron's diet is made up of fish. Because they are opportunistic feeders the exact species of fish depends on what's available in the local ecosystem. Herons catch fish by stalking them and then spearing them with their beaks. They then swallow them whole although they may give fish a good shake first to help break any potentially dangerous sharp spines.
While herons usually feed on small fish they will take the larger fish if they have the chance. In fact, it's not unheard of for a heron to actually choke to death when attempting to swallow fish or animals which are too big to fit down their S-shaped throats.
What Do Herons Eat Apart From Fish?
Great blue herons will also eat a range of other animals. For example mice and small rodents such as voles often make up a substantial part of their diet. Rats are sometimes included as well. Small birds, reptiles, amphibians, insects, worms, and crustaceans like crabs and shrimp are also consumed by hungry herons.
Do Herons Eat Frogs?
Herons eat frogs and tadpoles regularly. And this goes for both in the wild and in backyard ponds and water features where they may be looking for an easy meal.
Do Herons Eat Ducklings?
If the opportunity presents itself great blue herons will not hesitate to devour ducklings. Unfortunately for the ducklings, because of the size of the heron, there is nothing a mother duck can do to protect them. While herons are much more likely to eat the smaller ducklings some larger herons are actually able to eat sub-adult and even adult ducks as well.
Do Herons Eat Snakes?
Snakes are on the heron's menu. And because many snake species live and hunt near the water or in marshy areas, it's not uncommon at all for herons to swallow snakes as well.
What Do Herons Eat In The Winter?
Great blue herons typically migrate to warmer southern areas in the wintertime. There they will continue to eat their normal diet. However, some individual birds may not migrate at all. This is sometimes the case in areas where there winter temperatures are high enough so that the water remains unfrozen giving the herons access to fish.
Herons may also switch to moving water such as streams and rivers to catch fish once ponds and lakes freeze over. Interestingly even when all water sources may be frozen some individual herons may remain during the winter months surviving on small mammals.
Click Here Now to start shopping for Heron Deterrents!
Birds With Tails
Just like birds themselves, birds' tails come in a wide range of shapes and sizes. And some tails of course are more interesting and remarkable than others. The following are birds with tails that never fail to impress! Long-Tailed Tit The long-tailed tit, also known…
Birds With White Heads
There's no doubt about it, birds with white heads really stand out. From small to large they are quite a unique bunch. So here are some of the most fascinating white-headed birds and what you'll want to know about them White-Headed Vulture The white-headed vulture is…
Birds That Look Like Flamingos
Flamingos are wading birds with long necks and legs. These social birds live in groups and have strongly hooked downward-facing beaks which they use to feed on shrimp and other small water creatures. And they are famous for their stunning pink color. With such a…
How To Attract Owls To Your Yard
Owls are nocturnal birds of prey that can be extremely helpful when it comes to controlling rodent populations in a natural way. That is of course if you can attract them to your property by creating an owl-friendly habitat. So keep reading to find out how to attract…
Why Would A Swan Be Alone?
It's widely known that swans are incredibly social and romantic creatures, so it can be disconcerting when you encounter a solitary swan. However, there are several reasons why this might be. So why would a swan be alone? Here's what you'll want to know. But first,…
How To Attract Crows To Your Yard
Crows aren't always pests as many people believe. In fact, these super smart birds can actually help to rid your property of many common backyard and garden pests themselves. So here's your step-by-step guide on how to attract crows to your yard! Step 1. Create A…
What Do Crows Eat?
With roughly 40 different species, crows are a common sight in most places around the world. And while most of us are familiar with their appearance and harsh vocalizations, their diet is not as obvious. So what do crows eat? Here's what you'll want to know. What Do…
What Are Crows Good For?
Crows are widely considered to be pests. However, these large and highly intelligent black birds actually serve quite a few important functions in the environment. So what are crows good for? Here's what you'll want to know. Pest And Parasite Management Crows are…
How Long Do Swans Live?
Swans are graceful and beautiful creatures and as such, people have many questions about them. They want to know about their mating rituals, their diet, their preferred habitats, and even their lifespans. How long do swans live for anyway? Swan lifespans actually vary…
Are Crows Good Pets?
People all around the world see and hear crows on a daily basis. Although these intelligent and dark birds are practically ubiquitous, most people don't think of them as being household pets. Are crows good pets? The general consensus is that crows do not make…
Are There Crows In Australia?
Crows are remarkably smart birds that also happen to be extremely adaptable. They navigate unfamiliar circumstances via observation and interaction. Crows reside in locations all over the globe. While they do not live in certain parts of South America, they do reside…
What Do Swans Eat?
Swans are famously long-necked birds that are symbols of romance, love, beauty, and purity. Since these waterbirds have so many admirers, people often wonder about their eating habits, behaviors, and more. What do swans eat, anyway? Swan Basics Swans typically live in…
Birds That Look Like Owls
Owls are typically solitary and mainly nocturnal birds. And although these well-known hooting creatures have a rather distinctive physical appearance, there are actually various other kinds of birds that resemble owls closely. And people sometimes mix them up. So…
Why Are Swans Protected?
Swans are graceful and gorgeous creatures. They also happen to have protection in the United Kingdom, interestingly enough. Why are swans protected there, anyway? And does the Queen own all the swans? Yes, she actually owns any mute swans that are unclaimed in both…
Birds With Teeth
Birds do not have teeth. However, there are quite a few that really look like they do! These birds have evolved special beaks which help them to perform important functions. So here are some of the most amazing birds with "teeth," and what you'll want to know about…
Do Geese Fly?
Although geese are clearly birds, there are many individuals who do not necessarily associate them with flying. So, do geese fly? The honest answer is that these waterfowl do. They do not exactly slouch in the flying department, either. Many people are pleasantly…
Are Geese Dangerous?
Geese, in brief, are waterbirds that are quite substantial in size. Since they're often spotted on golf courses, at schools, and in community parks, people understandably tend to wonder whether they're safety threats. Are geese dangerous? Why Geese Attack…
Do Swans Mate For Life?
Swans are famously elegant waterbirds that are known for their sizable bodies, webbed feet, and lengthy necks. People often associate them with romantic imagery and monogamy. Do swans mate for life? You can find the response to that common and rather fascinating…
When Do Cicada Killers Come Out?
Whether you dread them each year or are waiting for them to emerge and control the cicada population you may be wondering, "When do cicada killers come out? The answer is they come out each summer in late June or July. Here's what you'll want to know. Cicada Killer…
Are Cicada Killers Dangerous?
One look at one of these huge wasps buzzing around, your yard, and it's only natural to ask, "Are cicada killers dangerous?" Fortunately, these wasps are mild-mannered. But here's what you'll want to know. Cicada Killer Wasps Basics Cicada killers emerge from the…